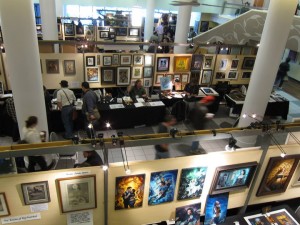 Illuxcon was an interesting experience. First off, I am normally working behind a table or have art up at a show. It was strange being the one walking around with no obligations or places to be. It was also odd being in a place that was so familiar (I knew of the art and artists), but not really knowing anyone or them knowing me. In fact I got a couple of, "well if you try hard and keep working, you can be an artist" comments.  It is a little strange since I have been working in this field for so long and have quite a following, but I have crossed so few of these professional illustrator's paths.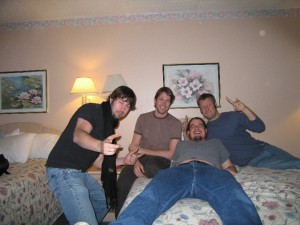 So first off the awesome stuff. Grant Cooley and Sam Flegal let Paul and I travel down with them which was alot of fun. We had good conversations, some decent roadside food and the eleven hour trip went by fast. We also got adjoining rooms which allowed the Friday night party to be much larger. I really wasn't feeling the vibe with the crowd at the party and resorted to my old party standby, sitting in the corner and sketching. But Todd Lockwood came over and we had a great talk about art, the horrors of politics, and printing 3D tractors.
Saturday was good, though I was a bit nervous throughout the day because that night Grant and I were scheduled to perform at the Illuxcon Jam, singing War Pigs and Roadhouse Blues. Now I have belted out some drunken karaoke at my house or strange bars in Florida, but never sang with a real band backing me up. With just barely enough alcohol in my system, Grant and I headed up on stage following some stellar performances and brought it back down to the real world with some rock n roll and drunken vocals. It was a lot easier than I thought it would be, and even after a big mistake in Roadhouse Blues (I forgot a whole section and Grant and Mark Zug – who was playing guitar, would not move on until I finished all the verses) we took it to the bitter end in style.  What a way to get to know some of my idols, after the songs – Michael Whelan, Vincent Villafranca, Donato Giancola, and Lockwood all came by and complimented and congratulated us on our theatrical performance.
It was a pretty good time.
There was one major disappointment that I have to vent about. And that thing was meeting Jordu Schell. Being a prosthetic FX maker, I was very excited to meet someone of his caliber. The first day he was gone for most of the day at portfolio reviews, but the second day he was at his table and Paul and I went up to talk. I introduced myself and told him that I often watched his Movie FX videos , he seemed a little quiet, but some artists can be that way. I kept asking him questions or trying to prompt him on to a longer discussion, but all he gave was short answers and seemed to have a disgruntled attitude, like I was disturbing him from sitting at his table alone. ip information After I walked away I asked Paul to make sure it wasn't me, and Paul confirmed he seemed rather rude. I was really disheartened that one of the artists I was most looking forward to talking to at Illuxcon blew me off.
But I will not end on a down note! I plan on going back next year and doing my best to get a showcase table. I also hope to participate in the Illuxcon Jam again, if they will have me.
It was a great weekend meeting a lot of cool artists and look forward to seeing them at future shows.