Well, As you have all seen this being worked on, you can now see it finished! I have been mailing out all the rewards to my kickstarter backers, and now it is available for sale!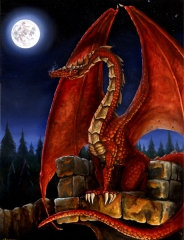 The Watcher II, oil on panel, 18×24, 2013.
Get a print of the newest red dragon at:  http://www.aradanicostumes.com/art_apparel/art_michael_bielaczyc?product_id=336
I am already working on the next piece, which will be a 2'x3′ elf oil painting!
copyright 2013 m bielaczyc